News
News, announcements, events and more.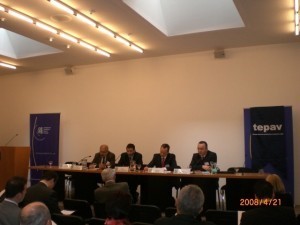 Caucasian Future 2008
CAUCASIAN FUTURE 2008 Transformation and Integration for Caucasian Stability and Development Views from the Region "Future of the Caucasus: Transformation and Integration for Stability and Development" conference organized by the Turkish Economic Policy Research Foundation (TEPAV), European Policy Studies Center (CEPS) and International Relations Council 21 It was held in Brussels in April 2008. The opening speech of the meeting, attended by Georgia's Minister of State for European Integration Giorgi Baramidze, was made by EU Special Representative for the South Caucasus Peter Semneby, TEPAV Director Güven Sak and Michael Emerson on behalf of CEPS. Well-known academics and representatives of respected think tanks from the countries of the Region attended the conference as speakers. EU bureaucrats from Brussels, representatives from non-governmental organizations, diplomats from the permanent representatives of the countries in the region, members of the media and many academics showed interest in the all-day conference.